About Me
In short, I love:
Movies. Television. Theater. Music. Teaching. Spanish language and culture. Family. Friends. Travel. Random facts.
This page will however just focus on the education part of me. If you would like to read more on my other interests such as movies, television, theater, music, travel and other random things, please follow my blog
"Entertain Me".
I welcome your comments and thoughts.
Please send me any questions if you have any.
I'm pretty open minded overall and suggestions are welcome.
You can also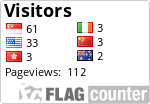 Free counters